Practice acquisition financing for dentists and orthodontists is readily available and there are many financing options available to recent dental and orthodontic graduates. Over the years, we have worked with most major lenders and many local banks for practice financing and, in our experience, there are a handful of companies that have distinguished themselves from the rest of the crowd.
We recommend contacting these lenders today to discuss your dental or orthodontic practice financing options. They have a long history of providing our clients with excellent service, as well as exceptional loan designs in terms of maximizing affordability and deductibility for practice acquisition financing in particular.
Bank of America Practice Solutions has been providing loans to health care professionals exclusively, dentists primarily, since 1996 and their services can be custom tailored to the unique profession of orthodontics. Bank of America Practice Solutions is acutely aware of the significant differences between general dentistry and orthodontics with respect to financing and they provide an exceptional level of service to our clients.
Doug Sellan, has proven himself over time to be a recent graduate's greatest asset in the pursuit of dental or orthodontic practice financing. Doug understands the unique situation a recent graduate is in and has repeatedly gone the extra mile for our clients. Doug can help general dentists, orthodontists and other dental specialists obtain many types of financing, including:
Practice start-up financing for dentists and orthodontists

Dental and orthodontic practice acquisition financing

Real estate acquisition financing for dentists and orthodontists

Refinancing of existing practice loans

Dental and orthodontic practice improvement financing

Working capital for dentists and orthodontists.
For additional information on practice acquisition financing, contact Doug Sellan.

Doug Sellan
Vice President / Regional Sales Manager
Bank of America Practice Solutions
Mobile: (614) 419-5532
E-mail: Doug Sellan
Bank of America
600 North Cleveland Avenue
Suite 300
Westerville, OH 43082-6920
East West Bank understands that our clients are looking for a trusted lending partner who will make it easier to achieve their career goals. That is why East West Bank has carefully polished their lending packages to give our clients an advantage at every step of their career.
Financing options for dentists and orthodontists are unique and loan terms need to be custom tailored to each doctor, paying particular attention to the doctor's specific needs. Whether you are just getting started, looking to grow your practice or planning for life after retirement, East West Bank has the experience and resources to help you reach your goals with confidence.
East West Bank can provide financing for the following:
Start-Ups
Practice Purchase Financing
Equipment Loans
Commercial Real Estate Loans
Expansions / Relocations
Debt Consolidation
James Stewart O'Dishoo graduated from Arizona State in 2004, receiving a BA in Business Management and has over 11 years experience in Investment Banking, with a market specialty specific to the Health Care Sector. James and his family currently live in Chicago, IL and he is the Vice President of the Mid-West Regional Market for East West Bank.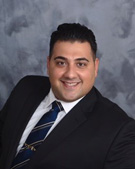 James S. O'Dishoo
Midwest Regional Vice President
East West Bank
Direct: (312) 632-0293
E-mail:
East West Bank
135 North Los Robles Avenue, 7th Floor
Pasadena, CA 91101